Toilet paper.
"Look Mummy, I am wrapped in the toilet paper!" Iris laughs, invisible except for her muscular little legs.
"Oh. Iris." I say, tiredly, humourlessly, but fondly.
Slightly disappointed she returns to the loo to unwind.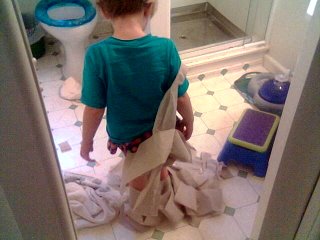 I'm sorry. I wish I hadn't suppressed the laughter. I wish I'd let it rip. She'd laugh if I wrapped myself up and capered half naked for her.
Perhaps it's the connection with the only place in my life with a lock on the door. The children use the toilet paper for things other than its intended purpose. It's not wasting, it's using; they are exploring ideas with it. It's a cheap resource, usually it is not even rendered useless, merely less pristine. We have more, they use it clean so it's not a health risk. But sometimes I get disproportionately distressed by it anyway. I try to guess when it might matter and just put the toilet paper up high so that we won't come into conflict un-necessarily. And that's why I didn't laugh; I was amused this time, but I didn't want to reinforce playing with toilet paper only to become a shrieking ogre about it some other time.
I told
her aunt
.
"Is she Mummy's mummy then?" she asks.
I'm still groaning on the inside.
Labels: fine thanks, Iris, laughter, sorry