Thirty-eight.
Having a happy birthday so far!
My household made me a grand birthday breakfast with eggs in hollandaise sauce, cake, and coffee on a petal scattered table with hydrangeas tied to my chair. Hazel and Iris (and Anne) have made me a shiny Cadbury Roses wrappers patchwork handbag!!!!
Hazel didn't cry after she got to school. We were almost late so she didn't really have time I suppose.
I took a bus to town.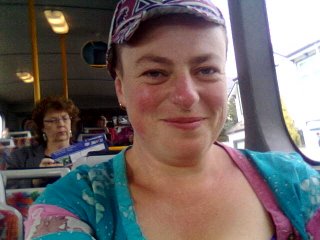 and bought many brightly coloured things to wear. I met Sean and Iris at the Costume Cave sale, didn't buy all the brightly coloured things I could have, and had a lovely lunch at a place whose name seems to have been erased from my mind. They'd been at Tumble Tots, where for the second week in a row the woman of the team had done the demonstration of the equipment.
When we got home my father met us and he and I walked up to collect Hazel from school and my mother and nieces (a.k.a. H and K) came over shortly after we got home for afternoon tea. H and K brought me oodles of balloons from their own birthday party and Mummy and Daddy gave me some interesting looking books. Hazel read her latest book to my father, which is only fair after all hours he's spent reading to her.
And then we went swimming, and had dinner out.
Labels: fine thanks