Nice niece.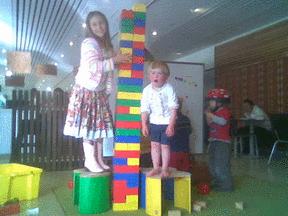 We borrowed our eldest niece for the afternoon. Here she is building a tower with Iris at Te Papa. Around that point things were clearly going so beautifully I negotiated borrowing her for the night as well.
She can
read
which is just such a bonus at bed time.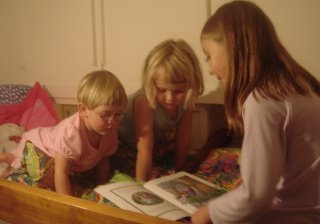 And Sean was going out.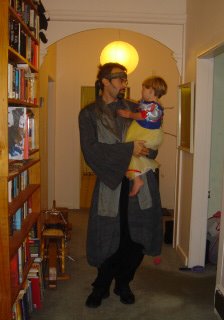 "I wearing a dress like Dad... You a pirate Daddy? I a princess Iris."
"What's Sean doing?"
"He's going out to play dress-ups with his friends."
"I love to play dress-ups. What is he, a prince?"
"Yes. A somewhat japanese space prince in fact."
"Oh. Well he sure looks like a prince...cess!"
(Yeah well, she is only just 7).
Bonus extra photo just because I liked it when I was uploading the Tower one. Hazel and Iris on wet rocks a few days ago.