A rock and a hard place.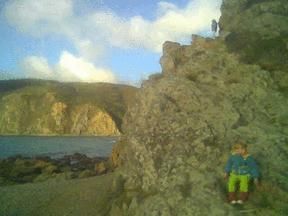 Rugged rock and some ragged rascals, a bright sky and windblown sea. The tiny purplish grey dot up the top right against the sky is Hazel and the green trousers (befouled with urine, ashes, sand, and brine) are Iris's. We were at Makara beach where the wind takes all words of warning out of the mouths of the mothers and dashes them against the crumbly rocks. What can one do but take a picture?
Oh, and below is a picture of Bryan Ferry. My character Georgei Vorkovacs looks like him.