Illustration Friday: Tea
My tea-drinking friend Gillian's dog Cory is a flat coated retriever and we used to take her down to the lake together and throw sticks into the water. Upon seeing a stick being thrown into water for retrieval Cory gallops to the edge of the bank and launches herself into the air to float for a moment before plunging in with a gigantic Sploosh!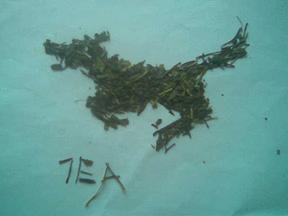 These days I'm drinking green tea. It's antioxidant properties make it more likely that my cervix will now stay uncancerous. Knowing that makes it taste a bit better. The medium for this picture was Sencha.