Flow Chart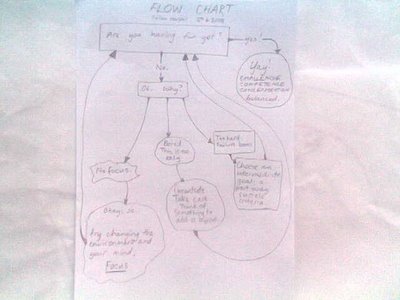 Notes in case you can't read the picture (I plan to make a better one, but this is the general idea).
Flow Chart
Susan Harper 27.6.2008
Are you having fun yet?
Yes!
Yay! Challenge, Competence and Concentration balanced.
No.
Oh. Why?
No focus.
Okay; so... try changing the environment and your mind;

focus

.

Bored. This is too easy.
Concentrate. Take care. Think of something to add or improve.

Too hard. Failure looms.
Choose an intermediate goal; a part-way success criteria.
Are you having fun yet?
Thank you Mihály Csíkszentmihályi.